Boris Polyak
Advisory Board Member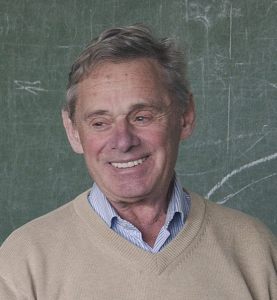 Leading Researcher of Laboratory 7. Institute for Control Sciences, Russian Academy of Sciences.

Professional Membership: Associate Editor of Journals:
"Journal of Optimization Theory and Applications",
"Numerical Functional Analysis and Optimization",
"Computational Optimization and Applications",
"Foundations and Trends in Optimization".
Former Associate Editor of "Mathematical Programming".
Former Deputy Editor-in-Chief of "Automation and Remote Control".
Member of Numerous Program Committees of International Conferences and Workshops.
Member of IFAC Technical Committee on Adaptive Control.
Head of Committee on Systems and Signals, Russian National Committee on Automatic Control.
Member of American Mathematical Society.

Publications: 4 monographs, 203 papers in refereed journals, 196 papers in conference proceedings.

Awards and Honors:
Meyerhoff Fellowship, 1991;
Andronov's Award of Russian Academy of Science, 1994;
Letov's Award of Institute for Control Science, 1999, 2010;
NATO Fellowship, 1999;
Award for the Best Paper, Published by Nauka, 2000, 2008;
Kulebakin's Award of Institute for Control Science, 2004;
Tzypkin's Award of Institute for Control Science, 2005;
Feldbaum's Award of Institute for Control Science, 2005;
IFAC Fellow, 2006;
Gold Medal of Association of European Operational Research Societies, EURO-2012.
Areas of Interest:
Mathematical Programming;
Convex Analysis;
Numerical Analysis;
Stochastic Approximations;
Robust Estimation;
Stochastic Optimization;
Optimal Control;
Robust Stability;
Robust Control.
Personal web-page: http://lab7.ipu.ru/eng/people/polyak.html