Alexander Fradkov
Associate Editor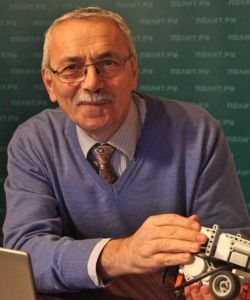 Doctor of Science in Engineering, Head of the "Control of Complex Systems" Lab of the Institute of Problems in Mechanical Engineering of Russian Academy of Sciences, St.Petersburg, Russia.
Professional Membership:
Associate Editor of Journals "Automation and Remote Control", "Informatics and Control Systems", "Information and Controlling Systems",
Editor-in-Chief of the international journal "Cybernetics and Physics" launched in 2012;
Member of International Program Committees for many international conferences;
Vice-chair of the IFAC Technical Committee on Adaptive and Learning Systems;
Member of the IFAC Technical Committees on nonlinear control and Education;
Member of the Russian National Committee of Automatic Control since 1998;
Member of the IEEE Control Systems Society Conference Editorial Board (1998–2015);
Member of the RAS Research Council on control processes and automation;
Member of European Control Association (EUCA) since 2014;
IEEE member since 1993.
Publications: 12 books, 10 patents, over 600 papers in refereed journals and conference proceedings.

Awards and Honors:
JSPS Fellowship, 1999.
Award for the best paper published in 2003 by "Nauka" Publisher journals, 2003.
IEEE Fellow, 2004.
Areas of Interest:
Control of Networks;
Nonlinear and Adaptive Control;
Control of Oscillations and Chaos;
Cybernetical Physics.
Personal web-page:
http://www.ipme.ru/ipme/labs/ccs/alf.htm